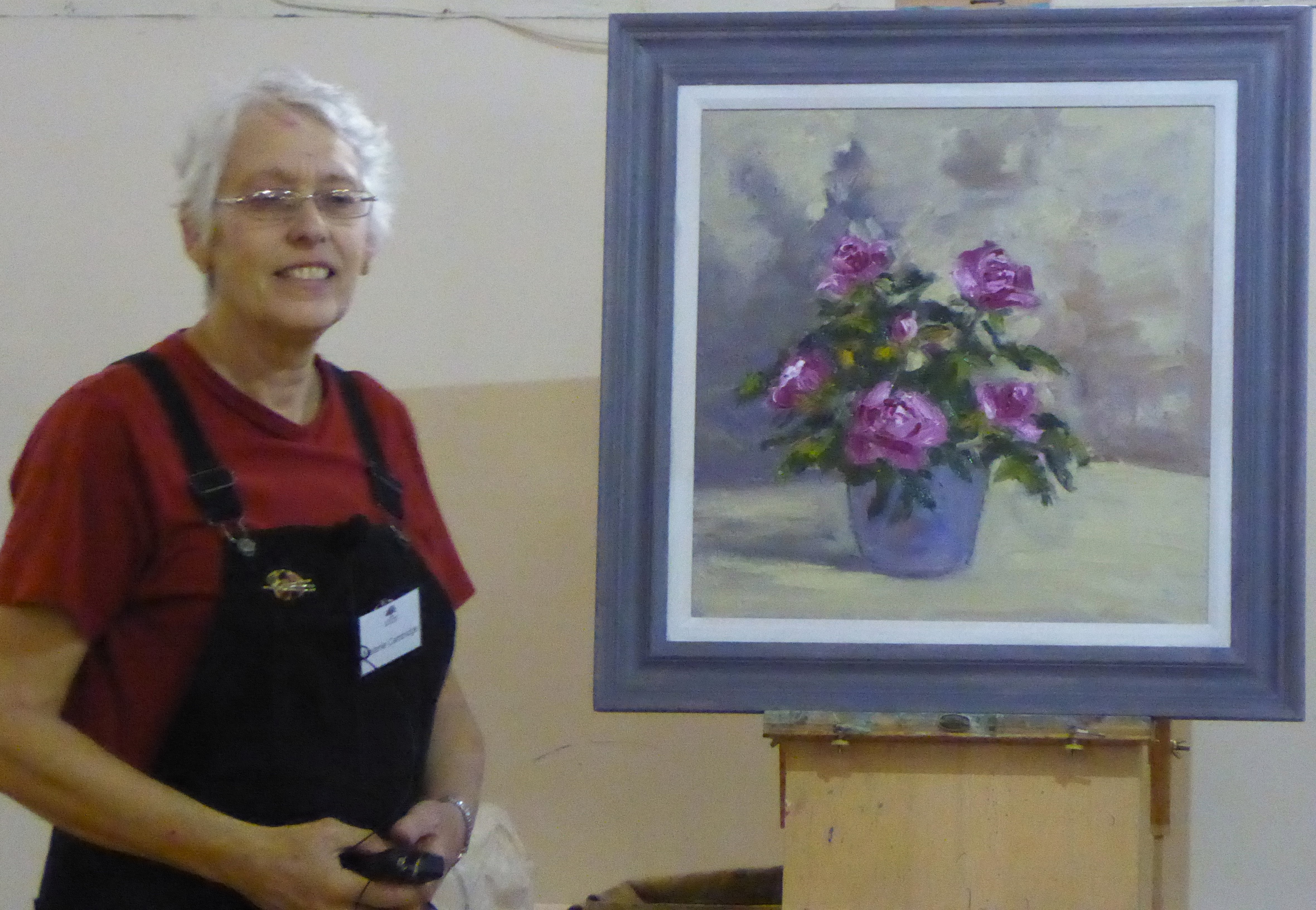 Live Demonstrations or via Zoom
It's up to you.......
All demonstrations run for up to 3 hours. Zoom events are recorded so that your members will be able to watch this demonstration again for up to one month afterwards.
Live Demonstrations and critique evenings from £180.00 (petrol costs will be added for venues beyond a 40 mile radius).
All Zoom demonstrations are for a fixed fee of £150.00 and include access to the video recording for up to one month afterwards.
CONTACT ME to discuss your ideas and requirements.
I can be booked to deliver various demonstrations and workshops. All are available on-line or in person. Here is a selection of what I can offer. However, do please contact meto discuss your ideas and if I can create a bespoke event for your society, I will.
NEW FOR 2024: Fauvist-Style Landscapes Using alternative colours to interpret the landscape An exciting way to loosen up and experiment with bold colours.
NEW FOR 2024: Getting Exhibition Ready This is an illustrated talk (I will bring my own laptop and projector) explaining some of the key points to consider when exhibiting your work, not just pricing and framing, but also copyright issues, how to build a mailing list, certificates of authenticity etc.
Atmospheric Skies & Clouds - Oils: Let me show you how to capture skies and clouds on a big scale. Working fast and loose to create a lively painting and incorporating impasto medium for the foreground.
Seascapes & Sunsets - Oils: I love painting seascapes and beaches. Working from sketches and photographs to create an atmospheric beach scene under a large open sky, incorporating figures or boats to give a sense of scale and interest.
Interpreting Photographs - Gouache, Oils, Mixed Media or Acrylics: Many of us paint from photographs. During this demonstration I show you how to use several images to create a planning sketch. Using this sketch with the supporting images to then create a finished painting.
Use those Sketches! - Gouache, Oils, Mixed Media: Taking ideas from my sketchbook, sometimes combining more than one, to paint a landscape, woodland view, river scene, boats in the estuary, or indeed anything else from my sketchbook.
FOR ALL ENQUIRIES ABOUT DEMONSTRATIONS OR WORKSHOPS, PLEASE EMAIL ME OR CALL ME ON: 07970 432348.
All Fees Fixed until December 2024.
In Person Demonstrations - £180.00 (if within a 40 mile radius) There will be an additional charge for fuel costs if travelling further. Agreed in advance at the time of booking and guaranteed not to increase, whatever happens to fuel prices after that. Demonstrations are up to 3 hours in length.
Zoom Demonstrations - £150.00 fixed fee (no extras) Zoom demonstrations can run for up to 3 hours. I record all demonstrations and then produce a video version which is available to your Art Club via private link for one month afterwards.
Day Workshops - From £250.00 (depending on distance travelled) including all reference handouts and recommended list of materials. I can supply oil paints at an additional cost - priced per participant.
Comments from Art Groups about the new on-line demos
Peterborough Art Society "Last nights demo was absolutely marvellous. I have had lots of feedback from members to the same effect. It has inspired quite a few of us. I also have had messages from some who could not attend the live meeting and they are pleased that a video will be coming out for them to view. A couple of them had already heard how good it was. How great is that? Thank you once again." Find out more about this art group at: Peterborough Art Society"
Charnwood Drawing & Painting Club "Thank you so much for the fine demonstration. We all loved it, and I am sure the demo and the video will convince many of our ardent watercolourists to try oils in the future. In the meantime it was a 'win-win' for all of us." Find out more about this art group at: Charnwood Drawing & Painting Club"
Harpenden Art Club "Thank you so much for the excellent demonstration you gave for HAC. I think you could tell, from the silence, that everybody was totally absorbed in watching and learning new techniques! It was interesting to see the way you used gouache, the artist's putty and the oil pastels, and to hear your commentary on how you were achieving the effects you wanted."
OILY RAG
SUBSCRIBE TO RECEIVE OUR
NEWSLETTER
'OILY RAG'
Please enter your email address to subscribe to receive our newsletter and notices.